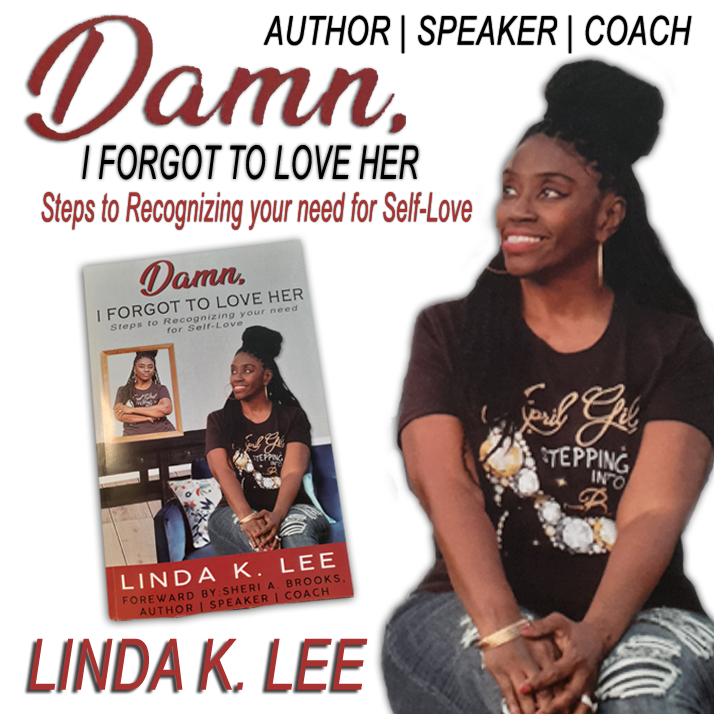 Linda Lee Author of the One of the Best Selling Book
"Damn I Forgot to Love Her"
Is a glimpse of the "Real" Linda Lee.  she had reached a boiling point and the pain was too much to bear.  When she took the mask of perfection off she allowed herself to be vulnerable.  As painful as that season was it was the beginning of the birth of Linda K. Lee, as author, playwright, speaker, and coach.  Linda's  Journey to learning to love herself has not been easy.  
Today she able to serve those around her because she has learned the valuable lesson, that we cannot help anyone if we don't care for ourselves first.
If you have ever struggled with being able to say no or you have allowed yourself to be so consumed by the needs of other that you feel like you've lost yourself.  Linda's story of how she found herself and how she has abe to walk in her true self will not only encourage you but will inspire you to rediscover yourself.
Antonio and Linda Lee are natives of Atlanta, Georgia. The Lees are authors, speakers and Relationship Coaches. Antonio and Linda are the owners of Lee Legacy LLC.
For more than 16 years, Lee Legacy LLC has been producing stage plays focusing on family and marital relationships. Their signature play "Solid As One" was made into a TV movie which aired on WATL TV 57. They hosted a radio show on am WYZE entitled "Let's Talk Love & Relationships with The Lees.
In 2018 they produced an internet TV show on WAEN TV entitled: "Straight From The Heart With Linda Lee". That show is now on the XOD Network under the Mpwr Streaming Channel and on YouTube as well. They have been certified Prepare/Enrich Marriage Educators for the past 5 years.
Lee Legacy Coaching was birth out of their love for marriage and real relationships. Thus, their motto and hashtag; #Real Relationships Matter. They do individual, pre-marital, and, marriage coaching and their niche are troubled marriages. They specialize in Marriage Bootcamps, Relationship Workshops and Retreats.
Antonio and Linda Lee use their 34 years of marriage experience to enlighten others about the importance of true relational bonding.
This powerful testimony of Linda Lee  explains details that needs to be embark on, and given the real answer to the reason why people have such problem in dealing with self love and losing one self.
Listen to this powerful podcast as Executive Producer and Senior Radio Host, Lonnie Ratliff, Senior Co-Host Shavonzail Camp and Producer Co Host and Investigative Journalist Amber Smith interview Linda Lee book on "Damn I Forgot To Love Her". 
Listen to "Linda Lee" on these platforms:
Website: www.connectradiogroup.com
iHeartRadio:  https://www.iheart.com/podcast/269-connect-radio-the-informat-70587250/
Spotify:  https://open.spotify.com/show/5b5KbYJnH2YTL2wVkuMcoh
Podbean:  https://connectradio.podbean.com/
Amazon Music: https://music.amazon.com/search/connect%20radio%20group?filter=IsLibrary%7Cfalse&sc=none
Apple Podcast: https://podcasts.apple.com/us/podcast/connect-radio-the-informational-news-truth-network/id1566780811
Google Podcast:
TuneIn Podcast:
Listen Notes Podcast: