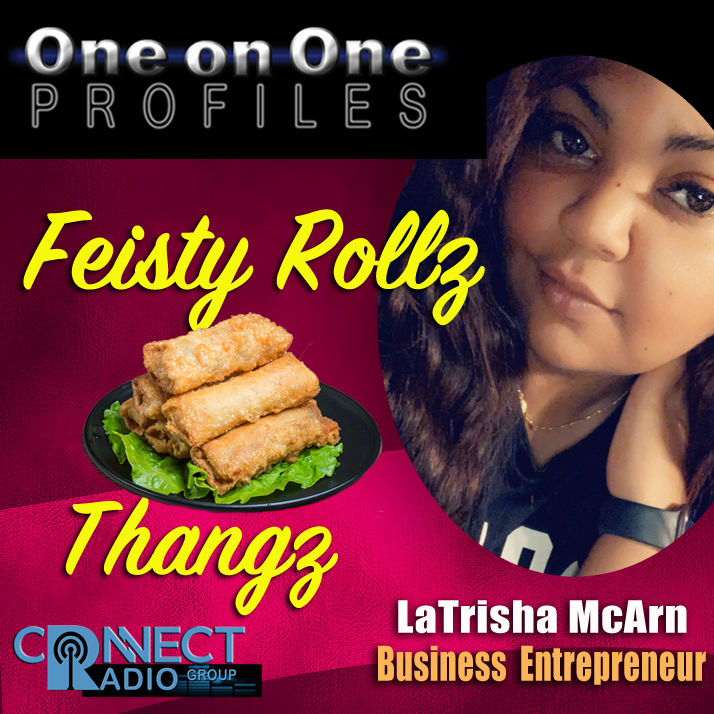 "One on One Profiles"
This New Episode is about "One on One Profiles" It is a program built around profiling successful individuals that are entrepreneurs, providing an in-depth insight into the work and rewards of being a dedicated business owner.
Ordinary viewers will have the opportunity to delve into the personal and professional lives of successful Men, Women, Children and Teens entrepreneurs, revealing the beginning layers of the pillars of the business world, which all started with a dream, a vision, and a goal.
Latrisha McArn
of
Feisty Rollz & Thangz
Latrisha McArn better know as Tri, is the owner and founder of Feisty Rollz and Thangz. Her current goal is to one-day move to a food truck, so she's able to service different areas with mouth-watering food.
She earned a different level of skills through her previous employer. Latrisha was able to move from the call center to a store manager for position within 2 years. She was also able to create a food business during the pandemic. Latrisha is a loving person who loves to have fun, and she makes sure it shines through from her menus to her food!!! to what it takes to be an Entrepreneur in Business and putting to work God giving talents in her life.
Listen to this NEW powerful podcast segment "One On One Profiles" as Executive Producer and Senior Radio Host, Lonnie Ratliff, Senior Co-Host Shavonzail Camp and Producer Co Host and Investigative Journalist Amber Smith Profiles Entrepreneur "Latrisha McArn" Business Owner of Feisty Rollz & Thangz
Listen to "Latrisha McArn" on these platforms:
Website: www.connectradiogroup.com
iHeartRadio:  https://www.iheart.com/podcast/269-connect-radio-the-informat-70587250/
Spotify:  https://open.spotify.com/show/5b5KbYJnH2YTL2wVkuMcoh
Podbean:  https://connectradio.podbean.com/
Amazon Music: https://music.amazon.com/search/connect%20radio%20group?filter=IsLibrary%7Cfalse&sc=none
Apple Podcast: https://podcasts.apple.com/us/podcast/connect-radio-the-informational-news-truth-network/id1566780811
Google Podcast:
TuneIn Podcast:
Listen Notes Podcast: