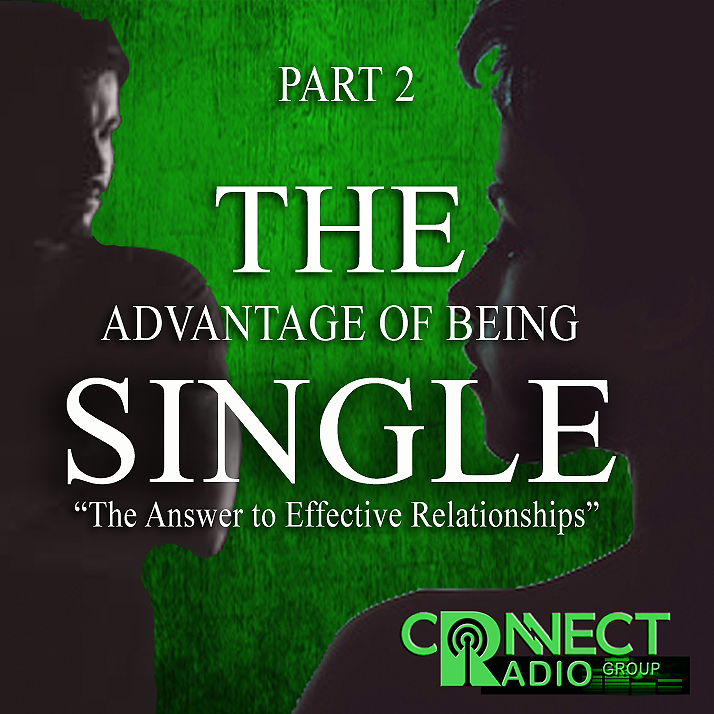 Episode 12 
The Advantage of Being Single
"The Answer to Effective Relationships" PART 2
Being single is the highest calling in the realm for dealing with Effective Relationships, because a successful relationships in marriage is the product of two people being successfully single in Character.  Not just in marriage only, but also in dealing with all kinds of relationships.
This powerful subject about The Advantage of Being Single "The Answer To Effective Relationships".  It is the answer to the real reason why so many people have such problem in dealing with all sort of relationships.  The Lack of Understanding and the Lack of Knowledge of Being Single and what it means to be a person that is Single in Character.
Hosea 4:6 - My people are destroyed for lack of knowledge. Because you have rejected knowledge, I also will reject you from being priest for Me; Because you have forgotten the law of your God, I also will forget your children.
People lack knowledge about what it means to be "single".
Many believe and misunderstood and think in their minds that being single means to be lonely or being alone.  When in fact it is the opposite. Being Single is a state of having the right mental attitude of dealing with yourself, dealing with your character as a individual person as a single man and a single woman. 
Whether you are unmarried or married, your goal in life should be to "live single".  Singleness is greatly misunderstood, Singleness has to do with a person characters.  It is the real reason why we have many  dysfunctional men and women in being single in dealing with their character 
Being Single you will discover what the essential truth of living a satisfying life.  You will be able to have total freedom of trying to please others, the hindrance of living through other people and from the believing the lie that you can be complete only through another person.  God create you to be separate, unique, complete and whole
Genesis 2:18, God said "It is not good that man should be alone."  He never said it wasn't good for him to be single.  And that is the problem of having proper and effective relationships
Being Single is God's Idea not Man
Most people believes that God started the creation in the beginning with a family first, but in fact and in truth, God started out in creating a single person
Consider Adam, the first man, as an example. Genesis 2 shows us a human being who was whole, complete, and content within himself and his companionship was with God.
Before Eve came along, Adam was by himself and alone, but he was not lonely and was not even thinking of a woman or a wife.  Adam was focus on God's purpose.  Loneliness is a spiritual disease.
It is so important to be SINGLE than to be MARRIED, because what you are as a single person, you bring into a marriage relationship
Its OK to be Single, but it is not OK to be alone
Singleness is to be PURSUIT
Never PURSUIT to be MARRIED first, PURSUIT to be Single
Singleness is the Answer to Effective Relationship
Key facts:
Until you are separate, single, unique and whole person, you are not ready to mary
To be truly single means to be all one, alone, separate, unique and whole.
A relationship is only as good as what the individuals involved bring to it.
A marriage will only be as successful and effective as you are single, because you can bring to a marriage relationship only what you are as a person alone.
To find out more on this subject:  PART 2 The Advantage of Being Single "The Answer to Effective Relationships
Listen to this powerful podcast as Executive Producer and Senior Radio Host, Lonnie Ratliff and Producer Shavonzail Camp, Senior Co-Host of Connect Radio Group discuss this powerful and much needed subject matter on "The Advantage of Being Single" The Answer To Effective Relationship" Part 2.
Listen on these platforms:
Website: www.connectradiogroup.com
iHeartRadio:  https://www.iheart.com/podcast/269-connect-radio-the-informat-70587250/
Spotify:  https://open.spotify.com/show/5b5KbYJnH2YTL2wVkuMcoh
Podbean:  https://connectradio.podbean.com/
Amazon Music: https://music.amazon.com/search/connect%20radio%20group?filter=IsLibrary%7Cfalse&sc=none
Apple Podcast: https://podcasts.apple.com/us/podcast/connect-radio-the-informational-news-truth-network/id1566780811
Google Podcast:
TuneIn Podcast:
Listen Notes Podcast: